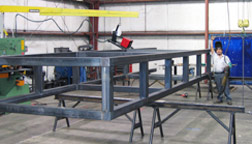 BENCO Steel employs a wide variety of processing and fabricating machinery.
Fabricating
BENCO Steel employs a variety of State-of-the-art CNC steel fabricating machinery to meet our customers specific requirements.
Contact us to inquire about any special needs you may have regarding special cuts and/or formed pieces.

BENCO Steel uses only the finest quality materials from top steel mills.